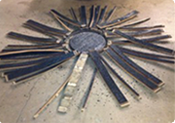 Welcome
Thank you for visiting River Drive Lumber. We specialize in reclaimed sunken timber as well as unique products made from aged Whiskey and Bourbon barrels
What is reclaimed lumber?
Maine is famed for its lumber production, during the Industrial Revolution in the early 1900′s and dating back to the 1600′s! In those days the waterways were used as the primary method of transportation, resulting in some logs sinking and leaving them preserved from UV light damage, oxygen and bugs. This highly sought after wood, used for flooring and other products, have unique markings and are commonly infused with mineral deposits. Most importantly, for every log that is reclaimed, one less tree has to be cut down.
Why Whiskey Barrels?
Whiskey and Bourbon barrels after having been used are often sold off to craftsmen to be turned into unique products. River Drive Lumber is proud to have access to these barrels to make items that are not only great conversation pieces but products that will add a touch of class in your home or office. Ever have a wall plate that was made out of an old whiskey barrel that still had the oaky smell of top shelf whiskey? Ever seen a wood floor made entirely from whiskey barrels? Click on the products link at the top to see all of our items and if you don't see something you want just email us 
                                                                 River Drive Lumber is a division of Coastland LLC